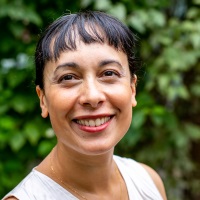 Valerie Sathe BRUGEMAN
Mercedes-Benz Urban Mobility Solutions
Valerie Sathe Brugeman is an experienced transportation professional, and is especially passionate about the intersection of cities, transportation, and land use.
She joined Mercedes-Benz Urban Mobility Solutions in 2019 and is Principal of Engagement and Strategy for the North American market. She and her team work to connect with cities and other governmental entities to understand their transportation challenges and then co-create high-quality, crowd-sourced data products to help solve those challenges. These products include everything from near-miss crash events and pothole detection to parking availability and micro-weather.
Prior to her current role, Valerie spent twelve years at the Center for Automotive Research, a non-profit research organization focused on the automotive industry. In her final role there, she directed the transportation systems analysis group whose focus included connected, automated, and advanced vehicle technologies.
Valerie earned her Master of Public Policy and Bachelor of Arts in Economics and Spanish, both from the University of Michigan.